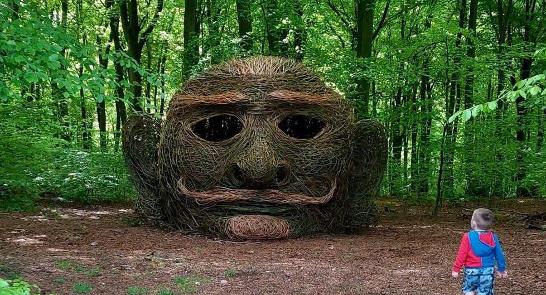 SCULPTURE EDUCATION CURATION
Mark Antony Haden Ford is a British Environmental artist who weaves drawings with found and grown natural materials in the realm of environmental art installation with Rebecca Ford. The two Sussex natives, with their site-specific ephemeral works are inspired by a strong interest in the archaeology, geography and mystery of the natural world, drawing on ancient traditions and techniques of willow craft and woodland conservation.
"As the creative partnership Two Circles Design, working in education and galleries we make contemporary artworks that directly engage with the environment as semi-permanent sculptures for both public and private sectors based on seeds and plant forms."
Commissions welcome tcd3sign@yahoo.co.uk
Mobile: 07809569869
There is a sense of peace when you sit inside one of Two Circles Designs' sculptures by Mark and Rebecca Ford. Created from coppiced willow, sweet chestnut and hazel with not one stitch of man-made fixings, these woven structures undulate and flow in purely natural, organic forms. Strong, yet intricate, the rods bend, coil and twist, in a myriad of patterns and swirls that cast web-like shadows against the ground. There is a feeling of enclosure and safeness within these constructed spaces, yet they are light and airy and the sky can still be seen beyond. They have a universal quality about them, the swirls and twirls could at any time be entangled trees, spider's webs or the veins that course through our bodies. This approach essentially reminds us all of our innate connection to the natural world.

(Etc Magazine March 2011)