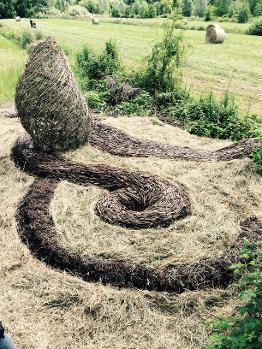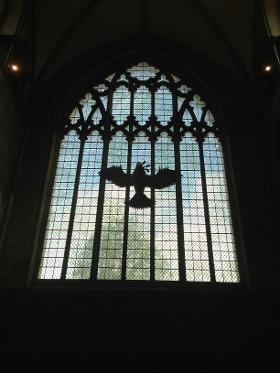 Mark and Rebecca Ford
Contemporary woven sculptors

Mark Antony Haden Ford and Rebecca Ford

of Two Circles Design

work in the medium of found and grown natural materials. Residing within the South Downs National Park, Sussex, they make monumental woven environments for both public and private sectors.
Both have a strong interest in the archaeology, geography and mystery of the natural world, drawing on ancient traditions and techniques of willow craft and woodland management. As international environmental artists, their surreal installations and ambiguous sculptures encompass a wide range of traditional skills and practices.
Mark has been involved with Land Art since 1992, transforming areas into mystical spaces with site-specific creations. The woven willow and hazel artworks directly engage with the environment as semi-permanent sculptures based on seeds and plant forms.
Mark and Rebecca's work reflects a renewed interest in returning to a slower pace of life, to the art of making something that takes time and effort . They grow much of their own materials, have a connection with woodland conservation and actively engage with schools and universities to create new works.

They have represented the UK at several international Environmental Land Art events and have works in private collections including Farley Farm House, Chiddingly and also at Little Forest in North Boarhunt.
Having restored local 'over-stood' willow stools back into rotation for harvesting themselves, through to the physical demands of manipulating the material, Mark and Rebecca Ford's work reflects a renewed interest in returning to a slower pace of life, to the art of making something that takes time and effort.
The Sculptures final forms take time to evolve, the nature of the material dictating in part, the direction and shape.
As the willow criss-crosses and interweaves, it creates fluid lines, drawings on a grand scale, a flowing story that stimulates and exhilarates the senses.
In May 2016 we represented the UK at the International Land Art Meeting Humus Park, in Pordenone, Italy. www.humuspark.it
In September 2017 we participated in Land Art Park, Kozlowka, Poland.
September 2018 took us to Lithuania for Land Art Kaunas,
and March 2019 L.E.A.F the Llano Earth Art Festival, in Texas, USA
We have sculpture on display at Farley Farm House, , Muddles Green Chiddingly www.leemiller.co.uk Sculpture Garden
TESTIMONIALS
Pauline Cory, Transition Town Worthing, UK
Mark and Rebecca Ford have facilitated 4 community workshops for Transition Town Worthing over the past 5 years and have always been such a delight to work with. They have the ability to make everything they do such fun, even in the pouring rain!!
They are real troopers - they endure all sorts of conditions, bring all the materials and tools we need, work incredibly hard and to a very professional standard, and ensure that everyone has a great time!
Mark has always helped us create some great structures as a group, even though most people have never done anything like this before, and Rebecca has gently and expertly guided participants to craft their own individual creations to take home.

What I really love about these wonderful people is that they are enablers - they demonstrate how to do things and then let people explore the materials and come up with their own versions, just perfect for a community group like ours with a vast range of ages, abilities and backgrounds.
Mark is the current mural installer of the annual display at www.slindonpumpkins.co.uk see films below.