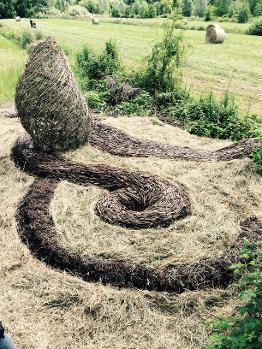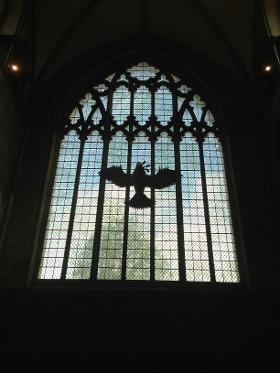 Mark Antony Haden Ford and Rebecca Ford
Contemporary woven sculptors

Mark Antony Haden Ford and Rebecca Ford

of Two Circles Design

work in the medium of found and grown natural materials. Residing within the South Downs National Park, Sussex, they make monumental woven environments for both public and private sectors.
Both have a strong interest in the archaeology, geography and mystery of the natural world, drawing on ancient traditions and techniques of willow craft and woodland management. As international environmental artists, their surreal installations and ambiguous sculptures encompass a wide range of traditional skills and practices.
Mark has been involved with Land Art since 1992, transforming areas into mystical spaces with site-specific creations. The woven willow and hazel artworks directly engage with the environment as semi-permanent sculptures based on seeds and plant forms.
Mark and Rebecca's work reflects a renewed interest in returning to a slower pace of life, to the art of making something that takes time and effort . They grow much of their own materials, have a connection with woodland conservation and actively engage with schools and universities to create new works.

They have represented the UK at several international Environmental Land Art events and have works in private collections including Farley Farm House, Chiddingly and also at Little Forest in North Boarhunt.
Having restored local 'over-stood' willow stools back into rotation for harvesting themselves, through to the physical demands of manipulating the material, Mark and Rebecca Ford's work reflects a renewed interest in returning to a slower pace of life, to the art of making something that takes time and effort.
The Sculptures final forms take time to evolve, the nature of the material dictating in part, the direction and shape.
As the willow criss-crosses and interweaves, it creates fluid lines, drawings on a grand scale, a flowing story that stimulates and exhilarates the senses.
In May 2016 we represented the UK at the International Land Art Meeting Humus Park, in Pordenone, Italy. www.humuspark.it
In September 2017 we participated in Land Art Park, Kozlowka, Poland.
September 2018 took us to Lithuania for Land Art Kaunas,
and March 2019 to 2023 L.E.A.F the Llano Earth Art Festival, in Texas, USA in 2021 Mark organised #BeLEAF an online global Land Art Festival including the World Rock Stacking Championships. 150 Artists in 35 countries from every continent. Over 30 hours of LiveStreamed content.
then to Creations sur le champs, Canada and created 'Atamatik' see film below
https://landart-creations-sur-le-champ.ca/2019_A.html

We have sculpture on display at Farley Farm House, , Muddles Green Chiddingly www.leemiller.co.uk Sculpture Garden
TESTIMONIALS
Pauline Cory, Transition Town Worthing, UK
Mark and Rebecca Ford have facilitated 4 community workshops for Transition Town Worthing over the past 5 years and have always been such a delight to work with. They have the ability to make everything they do such fun, even in the pouring rain!!
They are real troopers - they endure all sorts of conditions, bring all the materials and tools we need, work incredibly hard and to a very professional standard, and ensure that everyone has a great time!
Mark has always helped us create some great structures as a group, even though most people have never done anything like this before, and Rebecca has gently and expertly guided participants to craft their own individual creations to take home.

What I really love about these wonderful people is that they are enablers - they demonstrate how to do things and then let people explore the materials and come up with their own versions, just perfect for a community group like ours with a vast range of ages, abilities and backgrounds.
Mark is the current mural installer of the annual display at www.slindonpumpkins.co.uk see films below.
Mark Antony Haden Ford (and Rebecca from 2005)
Previous Exhibitions / Biography 1990 to present.
Selected Group Exhibitions
LEAF 2019-2023
Land Sand Stone, Bridlington, 2019 - 2023
European Land art Festival , Dunbar , Scotland 2020 – 2023
The Art of Chichester , Novium Museum and also a book, Nov 22 – feb 23
Culture Spark , Chichester carnival July 2022
The walled garden , Moreton May 2021 & 2022
Butlins Christmas. Woven snow family. Dec 2021
Slindon Artists open houses August 2021
Monogram Burberry summer campaign July 2021
7m x 2m woven screen RHS Gold Medal (team creating 'on tropic' by Freddie Strictland) July 21
BeLEAF2021. Delivered online March 2021
8 Slindon Artists (lockdown Exhibition) October 2020 and Sept 2021
Story so far..Little Forest Land Art, Art Space ~Portsmouth November 2019
Creations-sur-le-champ, Quebec, Canada October 2019
Land Sand Stone, longest sand drawing 1.2 miles Bridlington Beach Sept 2019
'Buccini' Sculpture Seweby Hall, Bridlington, September 2019
Patterns of Experience 2, Burgh House, London July/Aug 2019
Slindon artists Guild, St Marys Church, June 2019
Art 33 refugee charity exhibition, Hampshire, June 2017 and June 2019
Little Forest Land art , Hampshire, May - Sept 2016-2019
LEAF, Llano, Texas, USA March 2019
450th Anniversary of the Worshipful company of basketmakers, London Feb 2019
Magna Matter, Lys d'or, international online collective, Jan 2019
St Huberts, Group show, September 2018 & 2023
Hygroscopic Peggy Jay Gallery, Burgh House, London July 2016 - April 2018
Bosham Art Trail Bosham, West sussex May 2010
Mouth full of jelly, baby! Lewisham Arthouse, London Jan 2000
Englishmans home is his castle Urban Romantics, Southampton Sept 1999
Woven forms, Hebden Bridge Arts Trail, Yorkshire 1996 - 98
Dodecapolis Strange fruit, Chichester July-Aug 1998
Blue cowboys Newcastle Upon Tyne Feb - March 1995
Havant Arts Centre Nov 1990
Festivals
weird and wonderful wood festival , Suffolk May 2022
We Wonder Festival Wentworth woodhouse, Yorkshire July 2021
European Stone Stacking Championships, Dunbar, Scotland July 2021
Goodwood Festival Chichester Sept 2018
Pollen Festival West Wittering, WSx July 2016
Woven Installations West Dean Festival July 2011
Lodge of the natural law Out of the Ordinary Festival, Polegate Sept 2010
Sculpture and Installation, Arundel Festival, 2010 to Present
Windfall Arundel food festival Oct 2010
Garden of delights I am joy festival August 2010
Brighton Arts Festival , UK May 1997
Glastonbury festival, June 1996 & 2023
'Gateway' 17th Mondial Jamboree, Sorak National Park, S.Korea Aug 1991
Duo Exhibitions
Stansted Garden Show, UK 2009-2012
Edward James Foundation, West Dean, UK 2010-2013
Floral Fringe Fair, Bignor Park and Knepp Castle, 2011-2018
Arundel Gallery Trail, Arundel, UK 2010 – Present
"Remembrance 1914-1918", Arundel Museum, July – Sept 2014
Chichester Arts Trail 2012-2015
Strawmaze collaboration Demarco gallery, Edinburgh Feb 1996
Solo Show
'Same but different " Oxmarket Gallery, Chichester, Feb – March 2018
"Arterial Cytoplast", Oxmarket Gallery, Chichester, April –May 2012
Ancient sights Chichester library Nov 1997 Jul 1998
Woven and Grown, Brighton Festival, Phoenix Gallery, Brighton May 1997
Commissions
Wicker Pheonix Butser Ancient farm Hampshire Beltane 2023
Pathways Sphere, Arundel Wetlands, Feb 2023
Culture spark, land art events west wittering beach and National Trust Petworth house
Ascarpart the giant, artist in residence, south downs national park 2022
Chicken coop, Venice Biennale, Caravane Village, Client: Stichting Caravane Foundation, Todd Longstaffe-Gowan Ltd May 2021
Arlington and Ardingly Reservoir, Kingfisher sculpture trail Dec 2019
Rik, Surrey Stag, Surrey University, Guildford Sept 2019
Cenezoic, Arundel Festival August 2019
Ditcham Park School arts week July 2019
Witenagemoot, The Grange Opera Festival, Falstaff May – July 2019
Resurgence, LEAF Llano Earth Art Festival, Texas, USA March 2019/20/22
Octopus flower, Sculpture, Six Villages academy, 30 pupils Feb 2019
Spire of Peace, Chichester Cathedral, WW1 Armistice Nov 2018
Woven pumpkins and season mural, Halloween, Butlins, Bognor Regis, October 2018
Tree Henge, Land Art Kaunas, Lithuania, Sept 2018
The Kraken, The Warwick School, 1500 pupils, July 2018
The Connoisseur, The Grange Opera Festival , Barber of Seville, May – July 2018
Hedge Hog Dome, Kent wildlife trust, UK, May 2018
Nest, March 2018
Time passing, International Land Art Festival Lubartów – Kozłówka, Poland Oct 2017
Monster Acorn , Oakwood school 2017 / 2019
Giant Fish, Slindon College, 2017 / 2019
Giraffe, Usbourne Books, Aug 2017
'Microbial Worlds' Schools project, with 400 Romsey pupils. May – August 2017.
Woven installations, Farley Arts Trust, Home of the Surrealists Jan 17- Oct 2018
Hygroscence, Humuspark' the mind opener, Pordenone, Italy May 2016
"Woven Works", Aldingbourne Country Centre, Winter 2016
WW1 "Remembrance", Sculpture, Arundel, UK, 2014
(workshops with 2500 school children to create sculpture)
"Labyrinth", North Trancept, Chichester Cathedral, March 2013 and Jan 2017
Woven Projects with Schools, Universities in Public and Private Display, 2005 – Present
Works held in Private Collections in the UK
Bibliography, Newpapers, Publications, TV.
Culture spark
RHS Tatton, Gardeners World BBC2 July 2021
ESSC BBC News Picture of the week July 2021
Llano Times, Texas. April 2021
Featured artists in The Floral Arranger Autumn 2020
Fruits of the forest, Portsmouth weekend news 4th Jan 2020
A5 Magazine, October issue, 2019.
Breakfast TV, BBC Weather feature, Carol Kirkwood, Pumpkin carving, October 31st 2019
BBC Radio Sussex live interview 7 October 2019
page 17, The Times Newspaper, 'orange squash' Saturday 5th November 2019
BBC, South Today, schools Spire project, November 11th 2018
TV ITV Weather feature, Pumpkin carving, ITV October 30th 2018
Sussex Life magazine, 'Artist in residence' August 2018
Sussex Style magazine, Issue no 60, 'Art for arts sake' 2018
'Natural resources in couples art' People News, 27th July 2017, p68
TV BBC 1, Escape to the Country, Episode 17, Series 17. 1st Nov 2016
That's Solent TV, Live Pumpkin Carving in studio interview, 27th September 2016.
Hewitt, Phil, "Art Show ushers in Festive Season, West Sussex Gazette, 7th December 2015, p. 30
Shimwell, Chris,"Pumpkin Tribute to the RNLI", Bognor Regis Observer, 8th October 2015, p. 9
Book, "The State Of ART, Installation and Site Specific #2", Bare Hill Publishing, 2015, p. 16-19
"Live Carving" That's Solent TV, 28th September 2015
"Arundel castle notebook", The English Garden Magazine, April 2015, p. 32
'Poems and Poppies", Remembrance Special, County Times 13th November 2014
"On the Trail of Art", The Observer series, 14th August 2014, p. 63
" Art in Arundel", West Sussex Gazette, 13th August 2014,
TV BBC 1 South Today, News, 4th August 2014
"Helping Hand For Sculpture", Chichester Observer, 17th July 2014
Smith, Kevin, "Dome enables Outdoor Lessons", Bognor Observer, 10th April 2014, p. 7
"Willow Sculpture delights at Centre", Chichester Observer, 3rd April 2014
Hawkins, Oliver, "team Talk", Article, The Bell Magazine, Spring 2014
"Picture Perfect", Chichester Observer, 2nd October 2014, p. 7
Photo by Matt Scott-Joynt , 'Flight of Fancy", The Times Newspaper, 25th September 2014, p.5
"School Sculpture", Bourne Community College, Chichester Observer, 28th November 2013
Front Cover, Sussex Local Magazine, October 2013
"Slindons Smashing Pumpkin Display is Back", Bognor Obsever, 9th October 2013
Rex, Abigail, " Rustic Romance", The English Garden Magazine, July 2013, p. 53
Book, Rose-Massom, David: "Facing South", 2013, p. 99
Gardens Illustrated, March 2013, p. 74