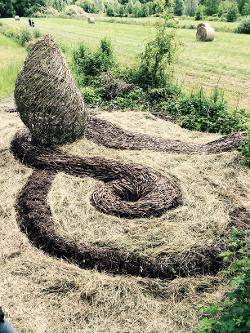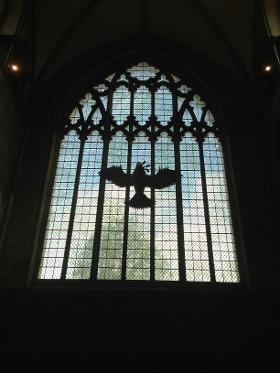 Mark and Rebecca Ford,
created Two Circles Design, an inspired partnership in 2004. Working in the medium of found and grown natural materials, within the South Down's National Park in Slindon, West Sussex, they make monumental woven environments for both public and private sectors.
Mark Antony Haden Ford graduated from a Sculpture degree in 1996 from Sunderland University.
Rebecca Ford, an English and Creative writing graduate, grew up near Midhurst lying in puddles and climbing trees.
They both have a strong interest in the archaeology, geography and mystery of the natural world, drawing on ancient traditions and techniques of willow craft and woodland management. As international environmental artists, their surreal installations and ambiguous sculptures encompass a wide range of traditional skills and practices.
The woven artworks that directly engage with the environment as semi-permanent sculptures are based on seeds and plant forms and the potential of all things.
Having restored local 'over-stood' willow stools back into rotation for harvesting themselves, through to the physical demands of manipulating the material, Mark and Rebecca Ford's work reflects a renewed interest in returning to a slower pace of life, to the art of making something that takes time and effort now that we live in in a 3D printed plastic age. The Sculptures final forms take time to evolve, the nature of the material dictating in part, the direction and shape. As the willow criss-crosses and interweaves, it creates fluid lines, drawings on a grand scale, a flowing story that stimulates and exhilarates the senses.
In May 2016 we represented the UK at the International Land Art Meeting Humus Park, in Pordenone, Italy. www.humuspark.it
Mark is the current organiser of www.arundelgallerytrail.co.uk
and installer of the annual display at www.slindonpumpkins.co.uk
We have sculpture on display at Farley Farm House, , Muddles Green Chiddingly www.leemiller.co.uk Sculpture Garden
TESTIMONIALS
Pauline Cory, Transition Town Worthing, UK
Mark and Rebecca Ford have facilitated 4 community workshops for Transition Town Worthing over the past 5 years and have always been such a delight to work with. They have the ability to make everything they do such fun, even in the pouring rain!!
They are real troopers - they endure all sorts of conditions, bring all the materials and tools we need, work incredibly hard and to a very professional standard, and ensure that everyone has a great time!
Mark has always helped us create some great structures as a group, even though most people have never done anything like this before, and Rebecca has gently and expertly guided participants to craft their own individual creations to take home.

What I really love about these wonderful people is that they are enablers - they demonstrate how to do things and then let people explore the materials and come up with their own versions, just perfect for a community group like ours with a vast range of ages, abilities and backgrounds.
Jo Webbern, Head of pre prep, Dunnanie, Bedales, Hampshire, UK

" This really was a whole school effort, driven by the ideas of the children and supported by the teachers and Two Circles Design. The children took ownership of the project and were incredibly proud when it was finished. The sculpture is in many ways symbolic of our teaching approach at Dunnanie, developing inquisitive and independent learners. Mark and Rebecca Ford came to the school to help pupils plan how they were going to use willow to recreate their designs and identify dimensions and quantities."

Regis School, Bognor Regis, Caroline Saunders, Assistant Vice Principle and Andrea Coleman, Head of inclusion Faculty.
'Creating the willow dome has been an amazing project, not only involving year 6 children and their parents, but also year 10 students. An ideal way of helping young people understand the meaning of sustainability"
Mrs Cluff, Head of Art and Design, Bourne Community College, Southbourne, Hampshire, UK
"Year 10 GCSE Art and Design students worked alongside Sussex based artists Mark and Rebecca Ford of Two Circles Design to create a sculpture installation. Students created 3d artworks responding to the theme of microscopic and natural forms. The two-day workshop introduced students to varied techniques and an exploration of woven forms using natural materials. The sculpture, woven around an existing pillar, expands out across the ceiling with student's artwork suspended from and woven into the tree life form, bold and beautiful"
Sally Milligan, Apuldram Centre, Apuldram, Chichester, West Sussex, UK
"The Apuldram Centre worked for three days with artists, Mark and Rebecca Ford to create an amazing willow sculpture. The Apuldram Centre is a centre for adults with learning disabilities. Mark and Rebecca went through all the processes involved by taking clients to coppice material and then designing and realising their design. A wonderful project'
Jane Walters, Head mistress, Slindon Cof E School. West Sussex, UK
"Mark and Rebecca are a very professional team, who are skilled willow weavers who also know how to engage children; explaining to them so they can understand clearly. They always engage the children in learning and furthering their understanding. Mark and Rebecca have worked with us regularly and our extremely supportive of our school community".
Linda Cadier, The Arts Society Romsey
A very big thank you on behalf of The Arts Society Romsey for all your efforts in making the Microbial Worlds project such a success. For us as sponsors we have been delighted to know that you reached over 300 children in this project and pleased too that it has been possible to link this work to other areas of the curriculum. The final drawings and willow spheres exhibited at Rum's Eg and at the Abbey are testimony to the excellent work you supervised along with the large willow installations which I have found myself drawn back to time to time again. The Romsey Festival is now at an end and please be assured, from all the comments the I have heard, that your contribution was highly valued and that you and your sculptures will be missed! I hope and am sure that our paths will cross again and that I will be recommending your work and services to all.